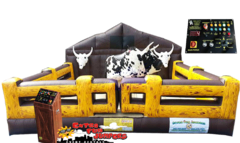 Mechanical Bull 410
Setup Area: 19'W X 19'L X 10'H


Rent the mechanical bull for your next church function, birthday party, corporate event or special event. This is a serious challenge, testing your ability to ride just like the cowboys. Safe enough for children, tough enough for professional bull riders ! The mechanical bull simulator is more than just a ride, It's an experience filled with realistic rodeo action. See if you can survive the bull's wrath for the full 8 second challenge the real rodeo kings are subjected to.

Details:
Price is for 3 Hours
Each additional hour is $150.00
Comes with 1 Attendant
Space required : 19'W x 19'L x 10'H
Requires 2 separate outlets not further than 75ft from set up area, one 20 amp circuit breaker and the second one need to be a 15 amp circuit breaker.
We can not take this unit up or down any "Stairs" or "hills"
Path to set up area must be at least 4ft in width
Set up area must be flat
You must be at least 4ft in height to Ride our Bull
Great for school events, church events, Fairs, Fundaraisers, Corporate events, carnivals and company picnics.

WE ARE FULLY INSURED

1. Release Of Liability And Assumption Of Risk.
If participants are under the age of 18, he or she MUST bring a waiver document
sign by a parent or legal guardian on the day of the event.
If you require a waiver sent to you via E-mail please ask the representative
at the time of placing the order.
2. A maximum of one participant with a minimum height of 48'' is permitted on mechanical Bull.
3. Remove shoes, eyeglasses, and loose fitting jewelry prior to participation.
4. Participants must obey instructions provided by attendant operating this attraction.
5. Food, beverages, or chewing gum is not permitted during participation.
6. No persons permitted to participate in game without Adult Supervision.
7. Spectators should not sit or lean on game while observing and should remain a minimum of three (3) feet back away from inflatable amusement device.
Contestant must be in good physical condition to participate. Do not Participate if you:
HAVE MOTION SICKNESS

HAVE BACK, NECK, OR HEART PROBLEMS

ARE PREGNANT

HAVE HAD FRACTURES ESPECIALLYIN THE SHOULDER OR ARM AREA

HAVE PRE-INJURED TENDONS

HAVE LIMP PROBLEMS

HAVE PHYSICAL OR MEDICAL PROBLEMS

ARE UNDER THE INFLUENCE OF DRUGS OR ALCOHOL

HAVE A SIGNIFICANT PHYSICAL AILMENT OR CONDITION

HAVE HAD A BACK, NECK OR ANY OTHER TYPE OF SKELETAL OR MUSCULAR PROBLEM OR PRE-INJURY

HAVE HIGH BLOOD PRESSURE, HEART TROUBLE OR NERVOUS DISORDERS

SAFETY OF YOUR GUEST IS OUR FIRTS PRIORITY, THE OPERATOR'S DECISION IS ALWAYS FINAL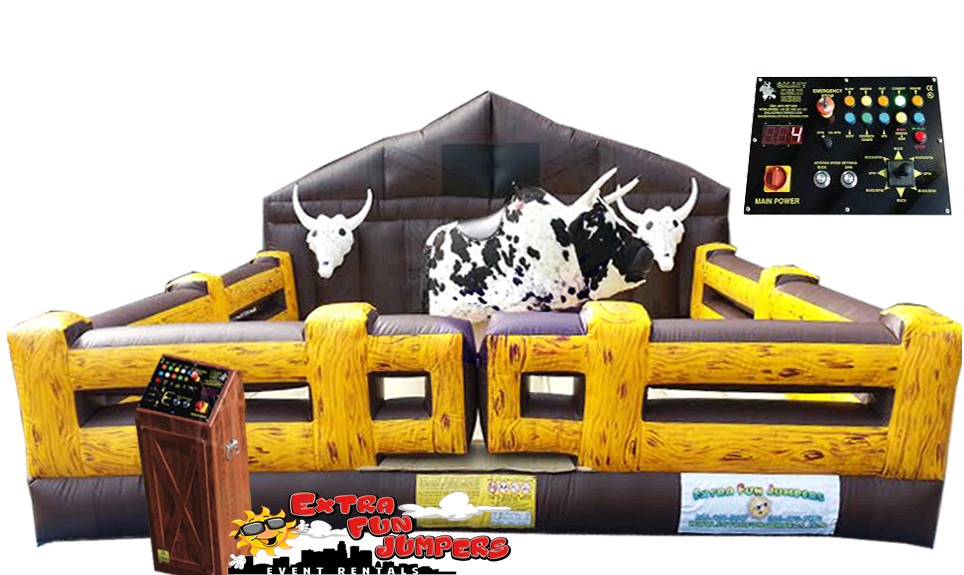 Some of Our Valued Clients