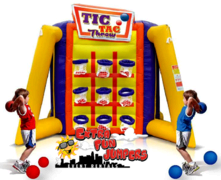 Tic Tac Throw 441
Setup Area: 14'W x 7'L x 12'H


A combination of challenge, skill and fun. Tic Tac Throw is an epic fusion of basketball and the strategic gameplay of tic tac toe. Getting three in a row might not be as easy as you think, but you will most certainly have fun trying.
Accesories are included.
Customer will receive 6 Balls with Inflatable
NOTE: Any accessories lost will be charge to the credit card.
Each Ball will be $15.00
It's perfect for schools, churches, carnivals, company picnics and birthday parties.


Thank you for your Business
Some of Our Valued Clients