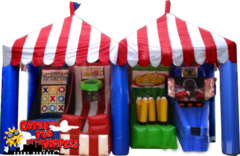 4 in 1 Carnival Games 408
Setup Area: 10'L X 22'W X 16'H


BASKETBALL: Shoot as many balls in one minute and see who will be the next NBA winner.
TIC-TAC-TOSS: Throw the balls and line them in a row to win.Vertically, horizontally or diagonally,includes 8 balls.
RING TOSS: Toss the rings and see who can get more onto the pencils and win, includes 5 plastic rings.
MAGIC HAT: Your eyes won't believe what they see, three balls floating on the air on top of the hat, try to knock them down and see who is the winner.

Accesories Included
2 Basketballs
8 colorful plastic balls (2 different colors) for Tic Tac Toss
5 Rings fir Ring Toss
Ping Pon Balls for Magic Hat Trick

NOTE: Any accessories lost will be charge to the credit card.
WE ARE FULLY INSURED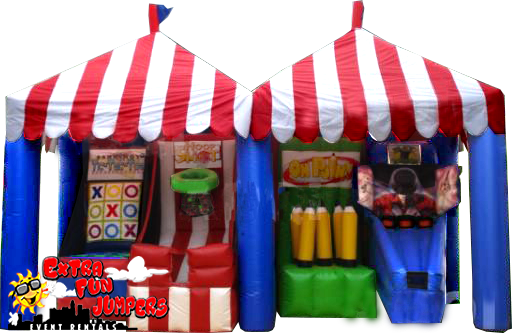 Some of Our Valued Clients