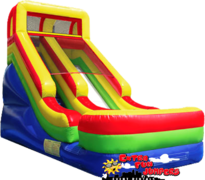 18ft Single Lane Slide 705
Setup Area: 17'W X 30'L X 19'H


Our 18ft Single Lane Slide can only be used dry.
It's Perfect for any party or a Big event on a small Budget.
The 18ft Slide is available for Rental in Los Angeles and Surrounding Areas.
Single Lane with a 10ft platform slide with a 45 degree angle.

SAFETY RULES:
NOTE: ONLY 1 KID ON TOP OF EACH SLIDE AT A TIME.
ONLY ONE PATRON CLIMBING AT EACH TIME.
SLIDE MUST BE STRAP ON BOTH SIDES, LEFT AND RIGHT.
If you have over 2 steps or a Hill please call us for Special Arrangements.
Customer will supply 2 separate Outlets, must be within 50ft.
Entrance/Path to set up area must be at least 4 feet in width,

do not plug them in the same outlet

.
if you do not meet this requirements your order will be cancelled and we will charge you 50% of your entire order.
Some of Our Valued Clients