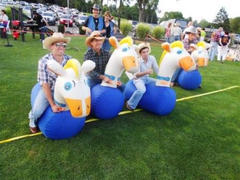 Pony Hops Inflatable
Please call to reserve this item.
These inflatable ponies are perfect for bouncing around or racing with others. All you need is a flat area and a couple of riders, and off we go. See which rider can be the fastest. Includes 4 ponies and pump.


NOTE: Inflatables Ponies can only be use in a grass area, no concrete or dirt, inflatables ponies will get damage.
Thank you for your Business
Some of Our Valued Clients