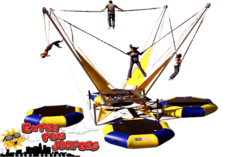 Euro Bungee
Setup Area: 45'W x 45'L x 40'H


Rent our Euro Bungee and let your event be a succes, Your guests are fitted at the waist with bungee cords, which are used to suspend them from above, enabling them to flip, spin, and jump to amazing altitudes!
EACH ADDITIONAL HOUR IS $150.00
Our Euro Bungee features up to 4 bungee riders at a time along with 2 attendants to supervise the riders. The Euro Bungee is great for kids ages 5 up to 21.
This ultimate bungee station handles four jumpers at one time. *Four people every two minutes. 40′ long x 40′ wide x 33′ high.
We are Fully Insured
Thank you for your Business
Some of Our Valued Clients