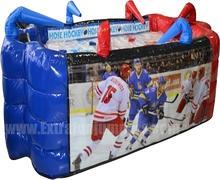 Air Hockey 419
Setup Area: 6'W X 10'L X 16'H


Our classic game or Air Hockey-Hose Hockey!
Required no ice, this six player game will provide endless fun for all your family and friends.
With it's slick playing surface it will keep the fun moving, literally, as six colored hoses direct a stream of air used to manouver the ball across the rink.
Suitable for both indoor and outdoor.
It's perfect for schools, churches, carnivals, company picnics and birthday parties.


We are Fully Insured.
Thank you for your Business
Some of Our Valued Clients